Are you ready to elevate your skateboarding game and embark on an exhilarating journey of smooth curves and seamless turns? If you find joy in the freedom of gliding through the streets, effortlessly weaving around obstacles, and feeling the rush of wind against your face, carving skateboards is your gateway to an unforgettable experience. Whether you're a seasoned shredder or a curious beginner, carving skateboards offer a unique blend of control, speed, and agility that leaves traditional skateboards in the dust.
In this blog post, we've scoured the market and handpicked the 5 best carving skateboards that are currently taking the skating world by storm. Designed to cater to various riding styles and skill levels, these cutting-edge boards boast innovative features, premium construction, and an unrivaled ability to take your carving skills to the next level.
Get ready to discover a diverse range of options, from sleek and minimalist designs to eye-catching graphics that express your individuality as a skater. Whether you're an adrenaline junkie seeking a rush or a chilled-out cruiser enjoying the cityscape, our comprehensive list has something for everyone.
So, whether you're a seasoned pro looking to upgrade your setup or a newbie eager to dive headfirst into the world of carving, this blog post is your ultimate guide to the top 5 carving skateboards you should consider adding to your collection right now.
5 Best Carving Skateboards 
These are the best carving skateboards available in the market right now. Let's strap on our helmets, lace up our shoes, and set forth on a journey of excitement, freedom, and endless possibilities with these phenomenal carving skateboards!
 Magneto Complete Skateboard
White Wave Bamboo Skateboard Complete
Flow Surf Skates Stub 33″ Surf Skateboard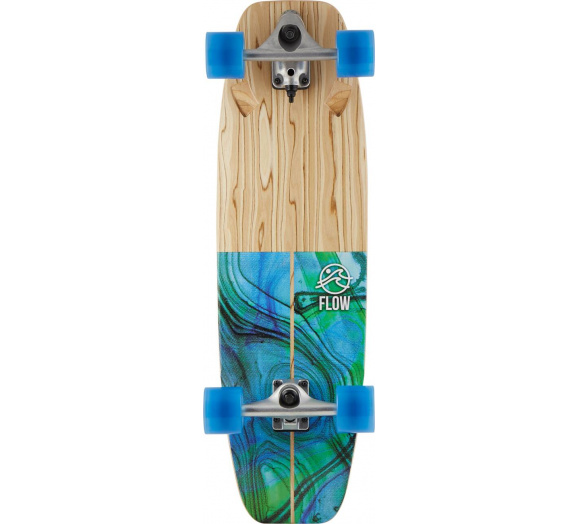 Add a header to begin generating the table of contents
Best Skateboard Backpacks
1. Magneto Complete Skateboard
When it comes to carving skateboards, the Magneto Complete Skateboard stands out from the rest. What caught my attention first were the trucks. Made from gravity-casted aluminum, these trucks are not only durable but also provide excellent stability when taking sharp turns. And that's not all. The deck of this skateboard is made from six plies of Canadian maple wood, making it strong and stiff. Plus, it has a layer of sand grit finish for better grip, ensuring a safe ride.
One of the things I love about this skateboard is its portability. With its mini-cruiser design, it's perfect for on-the-go skating. Whether I'm exploring new locations or just riding around town, I can easily take this skateboard with me. And the best part? It comes with a T-tool in the package. This tool allows me to make immediate adjustments to the skateboard's trucks, wheels, bearings, and other parts, saving me time and money and making it one of the best carver skateboards. 
However, there is one minor issue I encountered with the bearings. They felt a bit sluggish and dry, so I had to lubricate them to ensure smooth rides. While it's not a major problem, it's something that first-time users should be aware of.
2. White Wave Bamboo Skateboard Complete
Looking for the perfect carving skateboard? Look no further! We've got the ultimate recommendation for you. Introducing the White Wave Bamboo Skateboard Complete. This skateboard is unlike anything you've ever seen before. It combines the strength and durability of Canadian maple wood with the unique properties of bamboo. The result? A deck that offers the perfect balance of stiffness and flexibility, giving you a smooth and comfortable ride every time.
But it's not just about performance. The White Wave Bamboo Skateboard Complete is also a visual masterpiece. With heat-pressed graphic art at the bottom of the deck and a clear sprayed grip tape on top, this skateboard is a true work of art. The transparent grippy layer allows you to appreciate the natural color of the deck, adding a touch of class to your rides.
Now let's talk about the trucks. These skateboard components are light yet sturdy, thanks to their high-quality aluminum content. The kingpins and hangers are made of Grade 8 metal, ensuring reliability even during the most complicated tricks. You can trust that these trucks will keep everything intact as you push the limits of your riding skills.
And let's not forget about the wheels. The White Wave Bamboo Skateboard Complete Features Hooligan wheels with oversized ribbed cores. This unique design creates a smooth and fast ride, allowing you to carve through the streets with ease. The high-rebound urethane body of the wheels adds durability, stability, and liveliness to your rides.
Now, we have to be honest about one thing. After two years of use, the bearings on this skateboard may not perform as well as they used to. But don't worry, we've got you covered. We suggest preparing a new set of bearings to ensure that your rides remain as smooth as ever.
So, if you're looking for a carving skateboard that combines performance, style, and durability, the White Wave Bamboo Skateboard Complete is the perfect choice for you. Get ready to experience the thrill of carving like never before. Say goodbye to ordinary rides and hello to extraordinary adventures. Get your hands on the White Wave Bamboo Skateboard Complete today and take your riding to new heights.
3. Flow Surf Skates Stub 33″ Surf Skateboard
ntroducing the Flow Surf Skates Stub 33″ Surf Skateboard, the ultimate carving companion for urban adventures. This skateboard is designed to bring the thrill of surfing to the streets, giving you the best of both worlds. With its innovative Flow technology, it replicates the feeling of riding a surfboard, allowing for fluid and snappy carving and smooth pumping. This means you can experience the exhilaration of carving through waves, even on pavement.
One standout feature of this skateboard is its deck shape. The Flow Surf comes with a swell 33″ classic cruiser with a surf-inspired design, adding a stylish touch to your rides. Not only does it look great, but it also provides ample space for your feet, ensuring a comfortable stance every time.
Versatility is another key aspect of this skateboard. The adjustable spring tension on the trucks allows you to customize the ride to your preference, whether you're a beginner or a seasoned rider. Simply tighten or loosen the springs, take it for a spin, and feel the skateboard adapt to your unique style.
While the bearings may not meet everyone's expectations, they can easily be replaced to ensure a smooth and enjoyable ride. The rest of the skateboard's components are of high quality, guaranteeing durability and performance.
With the Flow Surf Skates Stub 33″ Surf Skateboard, you can carve your own path and explore the city streets with confidence. Its unmatched carving capabilities and surf-like sensation will make every ride an unforgettable experience. So why wait? Get your hands on this exceptional carving skateboard and unleash your inner adventurer today.
4. Santa Cruz Youth Land Shark Cruzer
When it comes to carving skateboards, the Santa Cruz Youth Land Shark Cruzer is a standout. Its deck design is what caught my attention. With its concave Cruzer shape, it's perfect for hills, tricks, and cruising. And the classic blue finish with shark graphics adds a fresh and cool vibe. It's not just a flexible skateboard, it's a classy one too.
While it may not be the longest skateboard for carving, the 8.8"deck provides stability. The sand spray grip on top adds to the overall comfort and safety of the ride. You can trust that you'll have a smooth and secure ride on this skateboard.
The wheels of the Santa Cruz Youth Land Shark Cruzer are another highlight. At 65mm, they may appear big, but they perform exceptionally well. The balance of hardness at 78a ensures smooth rolling and effortless sharp turns. No need to worry about any issues with these wheels.
What sets this skateboard brand apart is the attention to detail. When it arrives, it's ready to use straight out of the package. The trucks and wheels are perfectly tightened, and the deck looks flawless. You won't need to make any adjustments. Just hop on and enjoy the ride.
However, it's worth mentioning that the Cruzer may not be the fastest option out there. If you're looking for high speeds, you might want to consider another skateboard. But for carving and cruising, the Santa Cruz Youth Land Shark Cruzer is a top choice.
5. Flybar Skate Cruiser Board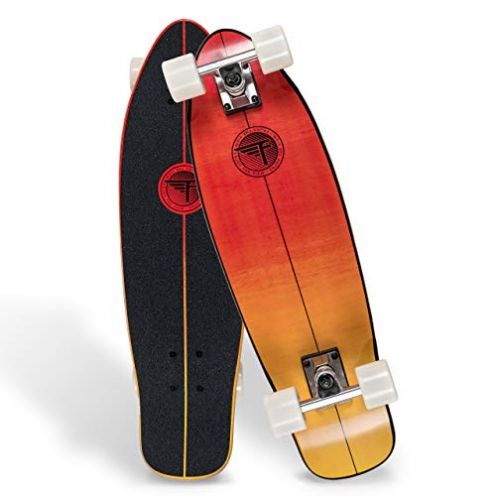 The Flybar Skate Cruiser Board is not your average carving skateboard. It stands out from the rest with its unique deck composition. Made from 7-layer Canadian maple, this board is not only solid and durable but also surprisingly lightweight and easy to control.
One of the standout features of this skateboard is its powder-coated trucks. Not only do they look great, but they are also resistant to corrosion. And with the added 6mm riser pads, you can say goodbye to wheel bite and focus on enjoying your ride.
But it doesn't stop there. This skateboard is equipped with 60mm 78a wheels and chrome ABEC 9 bearings. These high-quality components ensure a fast and smooth ride, allowing you to effortlessly navigate any terrain.
When it comes to grip, the Flybar Skate Cruiser Board doesn't disappoint. Unlike other skateboards that use spray grit layers, this one features 80S grip tape. It strikes the perfect balance between grip and comfort, keeping your feet firmly planted on the board.
While some may find it a minor inconvenience, a quick tightening of the trucks before riding is all it takes to ensure a secure and enjoyable experience.
In a sea of carving skateboards, the Flybar Skate Cruiser Board stands out with its exceptional deck composition, powder-coated trucks, and high-performance components. It's the perfect choice for riders who crave a unique and thrilling carving experience.
Conclusion 
As we reach the end of our exploration into the world of carving skateboards, one thing is abundantly clear: the allure of carving goes far beyond the ordinary skateboard experience. The 5 exceptional carving skateboards we've highlighted are more than just means of transportation; they are vessels of expression, catalysts for adventure, and bridges to a community of like-minded thrill-seekers.
From the adrenaline-fueled downhill rides that leave your heart pounding to the serene moments of cruising through city streets, each board on our list has its unique charm and purpose. Whether you're drawn to precision turns or crave the excitement of pushing your limits, these carving skateboards are your gateway to unbridled joy and personal growth as a skater.
Before you choose your ideal carving skateboard, consider your riding style, terrain preferences, and skill level. Let your personality shine through in your choice, for a skateboard becomes an extension of yourself as you carve your own path in life.
And don't forget the safety essentials – always wear your helmet and protective gear. Skating is about pushing boundaries, but it's crucial to prioritize your well-being to keep the stroke alive for years to come.
Now, it's time to step onto your chosen carving skateboard, feel the grip beneath your feet, and unleash the rider within. Embrace the thrill, embrace the carve, and let the world witness your daring pursuit of happiness on wheels. Happy carving, fellow skaters!
Shane Hill is a skateboard performer and trains skateboarding in various academies in Australia. He is passionate to teach skateboarding to beginners and has dedicated his career to this sport.